Womersleys Dry Clay Plaster Coloured
Colour swatches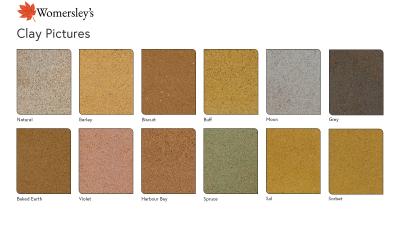 Technical Guides
Womersleys Dry Clay Plaster Coloured
Ready to use dry topcoat clay plaster
Womersley's Dry Clay Plaster Coloured
Womersley's Dry Clay Topcoat Plaster in a range of 12 Natural Colours. A pre-coloured interior wall and ceiling plaster, ready to mix with water. Manufactured on site in Yorkshire from fine white ball clay and dried silica sand. Indefinite shelf life whilst dry. Apply with traditional plastering skills and tools, and finish with plastic trowels.
Clay plasters not only look beautiful but have brilliant eco-credentials for a sustainable and healthy home. Clay Plasters harden by drying and, as no chemical reaction takes place, they remain workable for a lengthy period and can be reworked with the addition of water.
For internal use over Womersley's Wet Clay undercoat, old lime plaster, wood fibre boards or on plaster boards primed with Lime Green Solo Primer.
Manufactured on site in Yorkshire using locally sourced grey clay and specialist sand aggregates
100% Natural and completely free of toxins, polymers, VOC's and plastics
Minimal carbon footprint
Can be polished with a flexible float to compress and smooth.
Clay plaster after fully drying out can be finished with Aglaia natural wall primer to consolidate the surface, then decorated with wallpaper or natural clay paints such as Farnovo.
Surfaces with clay are cool in summer and warm in winter.
Clay is both a breathable and a hygroscopic material and so helps to manage damp and regulate humidity.
Clay helps to absorb odours.
Suitable for creating comfortable modern buildings and older building refurbishment.
A 20kg tub provides coverage of approximately 3.5 m² per tub at 3-4 mm thickness
Can be used in conjunction with Womersley's Wet Clay Undercoat plaster and glass fibre 7mm reinforcement mesh.
CLAY ORDER ARE MADE FRESH TO ORDER LEAD TIME 4-7 WORKING DAYS
Technical Guides