UK Mainland Delivery: All items that are in stock are usually dispatched and delivered within 4 working days.
The cut off for order dispatch on stock items is 11am
Mix orders - coarse stuff, clay plasters,hot lime mixes are made fresh to order so may have a longer lead time
Lime Green Coloured Mortars/Renders are made to order - 4-7 Working Days lead time
Pallet orders will be delivered via our carriers Palletways –
please ensure that:
you have supplied us with as much information as possible about the access, location and facilities on-site - it is helpful if you have more than one contact phone number for the driver, Somebody must be on site to recieve the delivery
The smallest vehicle they use is a 7.5t if you require a smaller vehicle (eg transit size) you will have to provide your own courier to collect
We have been made aware of any access restrictions, the delivery depot will assume any size vehicle can deliver unless specified (including low trees, bridges with weight limits, narrow entrances, restricted turning etc). Even if builder's merchants, rubbish, skip lorries etc have had no problem, our curtain siders used by the pallet network may well have trouble with height especially, so give us as much information as possible ;
The goods will be dropped by a tail-lift, Please note that a tail-lift requires a large, flat area of hard-standing (not gravel and not on an incline) to be able to offload and that you have organised enough space for the goods to be put proir to delivery
Pallet tracking is available via email so please incuded this in your order
Please ring with any queries beforehand
All pallets put on a tail lift service must NOT exceed 1000kgs if you request a 7.5t vehicle the limit is 650kgs
PALLET DELIVERY GUIDELINES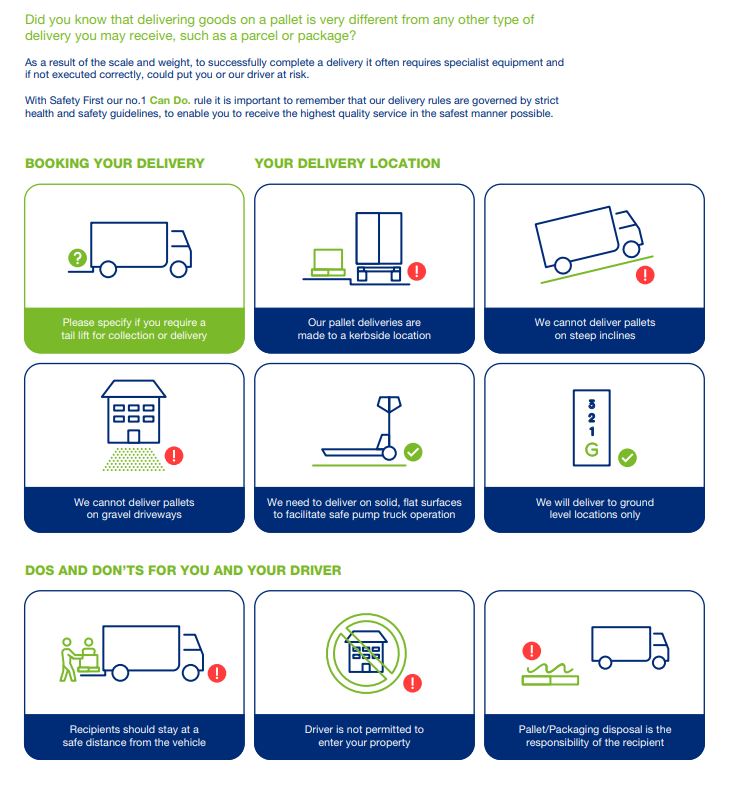 UK PALLET SPECIFICATION
_
______________________________________________________
Parcel orders (upto 4 bags or tubs) will be delivered via parcelforce
Full Tracking provided on dispatch
The Return to Sender charge is £6.75.
Returns
Returns accepted within 30 days
10% restocking fee applies
pro rata refund for any discounted rate pallet orders