Lime Stucco Work by Giovanni Bagutti
An image of Fame created by hand from gauged lime plaster by the stuccatori Giovanni Bagutti. This can be found at Wentworth Castle in the Italian staircase which provides one of the entrances up an early, fine, eighteenth centurywrought-iron balustrade edged cantilevered stone staircase to the grand long gallery. The staircase and gallery are completely in tune with the palatial style and proportions of the house and grounds.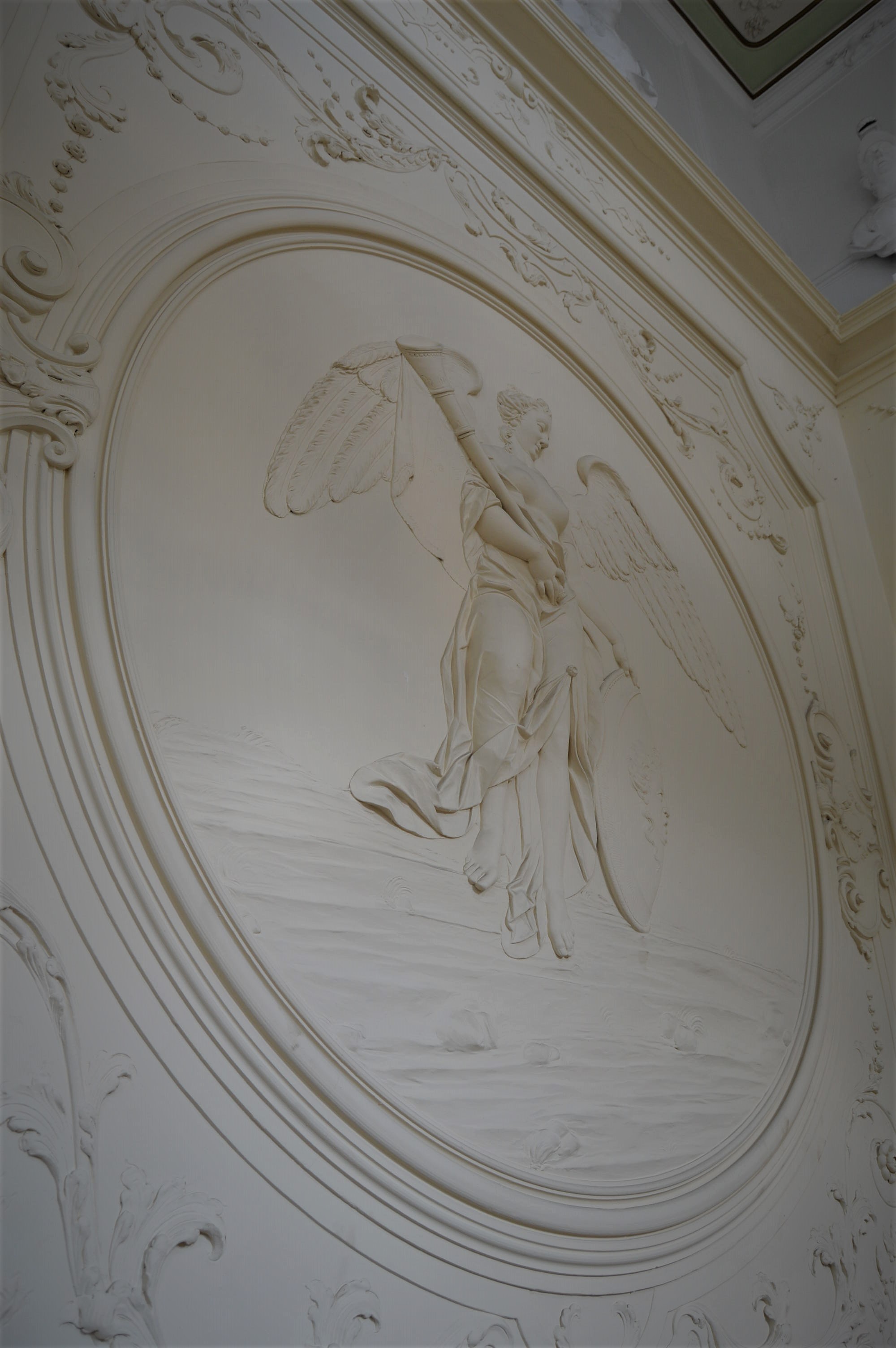 The early work was initiated c. 1711 by Thomas Wentworth, Baron Raby (1672–1739). Wentworth had been a soldier in the service of William III, who made him a colonel of dragoons and an ambassador for Queen Anne. He broke his tour of duty at Berlin to conclude the purchase of Stainborough in the summer of 1708, and returned to Berlin, armed with sufficient specifications of the site to engage the services of a military architect who had spent some years recently in England, Johann von Bodt who provided the designs for a palatial baroque east frontage, shown in picture 1 below. Wentworth was in Italy in 1709, buying paintings for the future house with plans display them in a grand gallery whose interior design was prepared by James Gibbs. The Gallery was completed in 1724.
This section of the house, although designed by Bodt, was revised by Thomas Archer and this resulted in the current building's east elevation, as illustrated by Colin Campbell in the first edition of Vitruvius Britannicus, 1715 and in Jan Kips painting of 1714. The design included the upper windows, which although now hidden by plaster inside, after 1760, provided more light for the gallery. The gallery was 180 feet, 24 feet wide, and 30 high, screened into three divisions by veined marble Corinthian columns with gilded capitals, and with corresponding pilasters against projecting piers, in the intervening spaces four marble copies of Roman sculptures on block plinths survived until the twentieth century.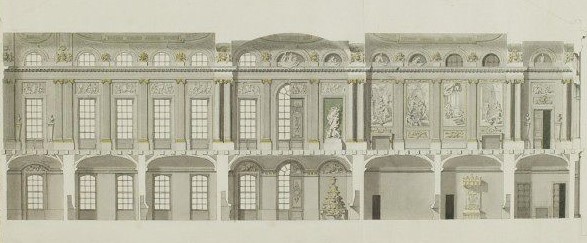 Designs/drawings by De Bodt, Jean, born 1670 - died 1745, showing a longitudinal cross-section of the gallery for the north-east front of Stainborough (now Wentworth Castle), Yorkshire. This drawing may be part of the original project for Thomas Wentworth, Lord Raby created Earl of Stafford in 1711.